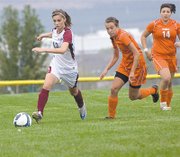 GRANDVIEW - It was a match-up of wills, and this past Saturday the Grandview girls soccer team wanted it more. The Lady Greyhounds defeated the visiting Ephrata Tigers 3-2, booting in the game winner with only four minutes on the clock.
The Lady 'Hounds drew first blood with what Coach Anne Holden referred to as a sublime shot by Karissa Trinidad. In the 14th minute Trinidad scored off a perfect cross from teammate Isabel Islas. Trinidad one-touched the ball out of the air and shot it past the Ephrata keeper for a goal.
The Tigers were in a fighting mood and held off Grandview's offense for another 18 minutes. But, Lady 'Hound Oryian Matheny was given possession of the ball and scored on a free kick.
Grandview, at the half, was ahead 2-0.
Ephrata, not being happy with the score, re-entered the field with determination. Five minutes into the closing half Tiger Skylar Lund was in control and shot the ball past Grandview keeper Ranelle Kalaw to score the first goal for her team.
Her teammates gained momentum and were inspired by the moment. It only took the Ephrata four minutes to take advantage of another opportunity, moving the ball past the Lady 'Hounds defense. At the 49-minute mark, Alana Sween of Ephrata lined up for a shot and took it, again slipping the ball past Kalaw.
The match was even at 2-2.
Not wishing to lose the home match, the Lady 'Hounds went on the attack.
The ball was passed to Matheny and she kicked it past the Ephrata keeper about 66 minutes into the match, but was denied the goal.
Holden said, "Oryian had a completely legitimate goal...it was disallowed."
She said the center official whistled the goal as legitimate, but the line official disallowed it.
The Lady 'Hounds didn't let that deter them, however. They fought again for the advantage and with just four minutes in the match, Islas booted a corner kick to teammate Marissa Caballero, who headed the ball in between the crossbars for the winning goal.
Grandview had 12 shots on goal and Kalaw kept six shots from making it into the net.
Ephrata keepers Lund and Kayla Brissey combined efforts to keep the Lady 'Hounds from scoring eight goals.
Holden said it was a great win for her team, which hopes to keep the momentum going in the coming week. Grandview will tomorrow (Tuesday) travel to Mabton for a non-league match-up.
"We face two tough teams, Ellensburg and East Valley, Thursday and Saturday," she stated.
With this past Saturday's win, Grandview has won four consecutive league matches. It has won six of the past eight matches overall.