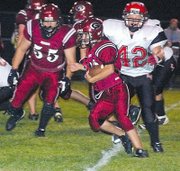 GRANDVIEW - It was a wild west shootout this past Friday in Grandview as the visiting East Valley Red Devils came to town for a CWAC match-up. Both teams put up a lot of points but it was East Valley who was left still standing with a 46-40 win.
"It was track meet on Friday," Grandview Coach Jeremy Scroggins explained. "We had six costly turnovers but we still had over 400 yards of offense."
The problem was East Valley had a lot of offense as well. Led by Cody Nickoloff's 226 yards rushing, the East Valley back scored three touchdowns on the night.
"We did not tackle him very well," Scroggins said. "Nickoloff is a very good running back. He's a Division I type of player."
The Greyhounds also had trouble containing East Valley's quarterback, Jonathon Janice, who passed for 151 yards, including three touchdowns.
The Red Devils scored first on a running play but Grandview came right back with a little razzle dazzle. Herman Herrera, a wide receiver for the Greyhounds, took an end reverse and pulled up to pass. He completed a 72-yard play to Dom Munoz and Grandview tied the score at 7 apiece.
This woke up the Red Devils, who rolled off two touchdowns before Grandview was able to get a Jose Castilleja 4-yard touchdown run before the first quarter ended.
The two teams traded touchdowns in the second and third quarters but the Grandview players found themselves down 46-19 in the fourth quarter. The Greyhounds mounted a comeback with three more touchdowns scored in the final stanza but just fell short.
Scroggins said Grandview scored its last touchdown with just over a minute to play. The Greyhounds attempted an onside kick but failed.
"We tried an onside kick but didn't recover," Scroggins said. "We had one timeout left and who knows what could have happened if we had recovered."
Derek Swearingen completed 13-of-21 passes for 208 yards and two touchdowns. Herrera had just the one 72-yard completion for a score. Castilleja rushed 24 times for Grandview and gained 171 yards, plus his three touchdowns.
"Jose ran like a man possessed," Scroggins said of his running back. "He played extremely well. He's just a sophomore and he has an opportunity to do well in this league."
Herrera led Grandview's receivers with 95 yards on four catches and a touchdown. Alex Ruiz caught three passes for 38 yards and Zeke Zamora added 25 more yards on two completions.
The thing that really hurt Grandview Friday night was the costly turnovers. The Greyhounds had six of them; two fumbles, two interceptions and two bad snaps that led to turnovers.
"If we would take care of the ball we'd be a lot better team," Scroggins said.
Grandview (0-5, 0-6) will try to get off the snide this Friday, Oct. 15, when the Greyhounds travel to Ephrata to take on the Tigers at 7 p.m.