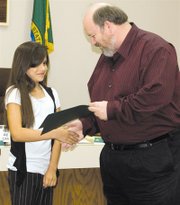 GRANDVIEW - A combination of pulling funds from reserves, holding the line on expenses and finding new revenue will help the city of Grandview balance its budget for 2011.
That's according to the city's preliminary budget proposal for 2011, which was unveiled last night, Tuesday.
With that said, Grandview is proposing a current expense fund budget of $4.7 million for 2011, less than a third of a percent more than was budgeted for 2010.
Even with holding the line on expenses - such as not replacing any equipment or vehicles - Grandview figures to start 2011 with a $139,420 deficit.
Mayor Norm Childress proposed taking money from the reserves to make up the deficit. He said doing so will still leave Grandview with $832,210 in reserves, well above the threshold of 15 percent established by council.
Noting the reserves are "for a rainy day," Childress added, "It's a pretty rainy day right now."
Given the recession and declining property values, the city is eyeing a conservative estimate of property tax and sales tax revenue for 2011. The city sees no increases in sales tax revenue next year and no change in property tax receipts.
To help Grandview mind its bottom line in 2011, the preliminary budget proposes a 6 percent increase in water and wastewater utility fees and a 5 percent hike for the irrigation fee.
Combined, the three increases will on average cost a Grandview household $3.51 more per month. The rate hikes, if approved, will net the city an additional $217,000 next year.
Even with rate increases, residents in Grandview ($79.24) would still pay less in monthly water/sewer/garbage utilities than Prosser ($81.72) and Sunnyside ($90.46).
The city is also exploring the possibility of a new revenue source: an annual $20 vehicle license fee, which would net the city an additional $180,000 each year.
City Administrator Cus Arteaga - who will discuss the proposal in more detail at a budget meeting on Tuesday, Oct. 26 - says the license fee money is needed to protect Grandview's investment in its roads, some of which need repairs.
"If we start seeing gravel roads that $20 is going to need to be $200," he said.
Also last night, the proposed budget for 2011 calls for no cuts in city services. No lay-offs or furloughs are planned in 2011. In a cost-cutting move, city has lost five positions over the past five years due to leaving job vacancies unfilled.
Also helping is that all the city's department heads volunteered in 2011 to take a salary freeze and pay $100 each month toward their health insurance benefits.
Mayor Norm Childress cautioned council that the proposal is a "living, breathing document" subject to change between now and December when the city has to adopt a formal budget.
Childress said unknown factors at this time include the impact of some ballot measures if they are approved by voters next month.
Grandview will continue its 2011 budget discussions with a special session at 6 p.m. on Monday, Oct. 25, and during the next council meeting set for Tuesday, Oct. 26, at 7 p.m.