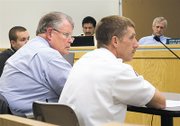 Because assessed property values have fallen in 2010 and the city of Sunnyside property assessments could potentially drop further in 2011, thus reducing revenues collected by the city, Sunnyside Finance Director Byron Olson Monday night asked the city council to consider a property tax increase.
He said ad valorem taxes are permitted by law, but the city is limited to a tax increase of approximately 1 percent more than the highest tax in the past three years.
The limit, said Olson, was voter-approved and, although it was challenged in the courts, the Washington state legislature enacted the law to honor the wishes of the voters.
Property taxes provide revenue to the city, the Port of Sunnyside, Sunnyside School District and other entities, such as the Yakima Valley Regional Library. Approximately 38 percent of property taxes collected from local residents end up in the city of Sunnyside coffers.
For a property assessed at $150,000, Sunnyside residents are paying about $9.74 per $1,000 of valuation or about $1,461 total.
A 1 percent increase in local property taxes could generate $47,000 in additional funds.
Without the city council's approval to raise the existing property tax rate by 1 percent, Sunnyside could lose between $18,000 and $47,000 from what it is currently receiving.
Olson said the average household would see approximately $11 added to their property tax bill, if the council approved the increase.
Yakima County, however, has yet to finalize assessment values and the city will have a better understanding of its possible property tax revenues once the assessments are complete.
Councilman Don Vlieger was impressed with the presentation, but said, "I am not for raising taxes...especially in a recession."
The council was asked to consider the issue and revisit it before the Nov. 24 deadline, and Councilwoman Theresa Hancock advised the council evaluate the situation after the general election, when the city has a better idea about future revenues and the 2011-13 budget.