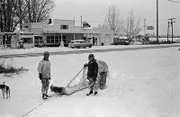 It never attracted much of a population - neither did it lure in business or tourists - but the little community of Lichty did exist and Jerry Ferson is looking to uncover some of its mystery.
Lichty is located approximately three miles southeast of Sunnyside, along Yakima Valley Highway. Just past Black Rock Creek Golf Course and RC's Restaurant, a person can spy what is left of the little community Ferson remembers from his childhood.
But once upon a time, Lichty was more than a Lower Valley enigma. Ferson learned that the original community of Lichty had been built between the railroad tracks and the highway. It boasted a combined hardware store and hotel until a fire destroyed the community.
Lichty was then rebuilt on the left side of the highway and would attract a number of Oakies and Arkes, refugees from the Dust Bowl that devastated the Midwest during the Great Depression.
That was where Garl Noble, Ferson's grandfather, would come from. With his brothers, the Arkansas natives found work in the Lower Valley and settled in for the long haul.
During Ferson's childhood, Lichty did not have much to offer, but it did have the long-running Lichty Market and an auction barn, plus, nearby Lichty pond attracted ice skaters from all over in the winter.
Lichty's auction barn garnered the little community a great deal of attention. Livestock holding pens were built across the highway, next to the railroad, a scale house was built and farmers would come and sell hay and other goods.
"It was quite a thriving community at one time," Ferson said. He recalls children walking from their homes to the Lichty Market to purchase candy.
And Ferson remembered it being a very safe community. He never recalled anyone locking their doors, but does remember one close call his aunt, Sylvia Dugger, had with a shifty-looking stranger.
Dugger was watching the Lichty Market while its owner, Ellen Farmer, was on vacation. A man lingered in the market until the costumers cleared and threw a knife on the counter, asking her if she'd ever seen a knife that big.
The woman, whom Ferson says "was like the rock of Gibraltar," stayed calm, pulled the knife out of the counter and said that her husband had one just like it before throwing it back into the counter.
Around that time, a car pulled in for gas and Dugger went out and told the people of the suspicious man and they stayed around until help could arrive. Dugger found out later he was an escaped convict.
Noble's family spread out and populated much of Lichty. The community could also boast Sonny Sixkiller as a former resident, said Ferson.
Sixkiller was a Cherokee Indian and played quarterback for the University of Washington before being recruited to play in the Canadian football league. He also appeared in the film The Longest Yard (1974) before returning to Seattle, where he is currently a color analyst for FSN Northwest.
But with all this knowledge, Ferson is still looking to uncover more of Lichty's history. While he currently owns much of what was once the community of Lichty, Ferson does not know some of the community's basics, such as who the community was named for.
"There are more mysteries than I can shake a stick at," Ferson said, "And I've lived there all my life."