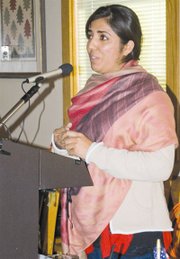 Because she grew up in Afghanistan, Khushboo, whose last name is being withheld for personal safety, understands the abuse of women in that country.
She is one of the more fortunate women, growing up with parents who are educated. Their education, said Khushboo at yesterday's Nouvella Club meeting held at Snipes Mountain Restaurant and Microbrewery in Sunnyside, led to a firm belief that their children should also be educated.
She said her parents when she was a young girl moved the family from Kabul, Afghanistan to Pakistan so that the children could obtain an education. They lived in Pakistan for eight years and the children thrived with the opportunities provided them until the Taliban began moving into the region.
That is when Khushboo's parents moved the family back to Kabul and sent their daughters to a women's shelter.
Khushboo and her sister continued to pursue an education at the shelter and also were able to help other women there.
It was in 2005 that Dr. Ken Zontek, a history teacher at Yakima Valley Community College, was deployed as a NATO liaison to Afghanistan.
He told the Nouvella Club members he was "...captivated by her ability to speak English."
Zontek, while in Kabul, sought out ways in which he could commit himself to humanitarian needs in the country. He was interviewed before being welcomed to a women's shelter, where his world was changed.
At the women's shelter, he met Khushboo and several women hiding from the outside world because of oppression and abuse.
Upon his return to the U.S., Zontek began raising funds to assist the shelter. He felt more could be done to help the women there, including Khushboo.
Khushboo, he felt, could benefit from further educational opportunities in the U.S.
"After a while, I spoke with the directors at the shelter to provide women there an opportunity to obtain an education here," said Zontek.
Yesterday, Khushboo shared photographs of women and children housed at the shelter. While the photos were being shared, she told stories about the various women pictured. One young woman's photograph was not available.
Khushboo said 15-year-old Mujaheda lived at the shelter, fearing her father would kill her if she returned to her family. The young lady refused to return, even with promises from the family that no harm would come to her.
"Her parents signed an agreement, promising they would no longer treat her the way they had," said Khushboo, stating the youngster suffered abuse on a daily basis prior to seeking shelter.
With the agreement in place, however, Mujaheda returned home. Her father killed her that night.
Khushboo told the Nouvella Club members several similar stories of abuse, and shared photos of one woman's scars resulting from years of beatings.
She said several women at the shelter cannot leave the confines of the building because family members have put a price on their heads.
Others have been sold to men because they are viewed as property, not people.
"I want to help them and give them educational opportunities," said Khushboo.
That is the reason she will return to Afghanistan after graduating from Yakima Valley Community College.
"I could easily stay here, but who would go there and help them," Khushboo commented.