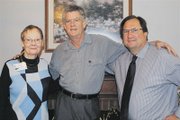 DENVER - Dr. John William Allen of Sunnyside has officially retired from full-time practice but his capacity for care and dedication to the people of the Yakima Valley continues and the American Academy of Family Physicians recognized that devotion earlier this month.
On Saturday, Oct. 2, Allen was one of more than 175 family physicians who achieved the Degree of Fellow of the American Academy of Family Physicians.
Criteria for the degree include a minimum of six years membership with the academy, public service outside medical practice, conducting original research and serving as a teacher in family medicine.
The American Academy of Family Physicians also requires members to complete a minimum of 150 hours of accredited continuing medical education every three years.
Allen serves as medical director for both Hillcrest Manor and Rehabilitation Center and Lower Valley Hospital and Palliative Care.
Allen began work at Hillcrest Manor 10 years ago as a consultant to their Eden Alternative Philosophy of Care. He also served as consultant for the retirement center's Therapy Services and Medicare Enhancement Program before acting as medical director.
Mary Arthur, administrator of Hillcrest Manor, said, "We are indebted to him for taking on the multiple responsibilities for the love of our elders."
At Lower Valley Hospice, it is not uncommon for primary physicians to turn the care of their patients over to Dr. Allen when they are admitted to hospice service.
Director of Lower Valley Hospice Rev. Ron Jetter said, "He is living proof that some doctors still make house calls."