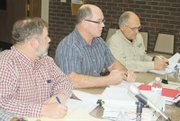 GRANDVIEW - The Grandview city budget for 2011 took center stage last night, Monday, during a study session held by the Grandview City Council.
Much of the discussion centered around the Grandview Police Department's proposed budget for 2011.
Police Chief Dave Charvet presented a budget proposal of $2.5 million for 2011, up about $90,000 from 2010.
Charvet said salary and benefits for the department's 25 employees take up about 90 percent of his budget.
Among the increases the department is penciling in for 2011 are $23,000 for base salary increases and $11,000 in medical insurance hikes.
Councilman Mike Bren expressed concern about the city's rising insurance costs, and asked city staff to investigate whether the city will have to pay insurance premiums for the children of employees, even if the child is an adult living on his or her own and has a job elsewhere. The concern stems from the Obama health care plan that was approved earlier this year.
The 2011 police budget also proposes to move half-time funds ($50,000) for an SRO from criminal justice to patrol. The city receives the rest of the salary in payment from the Grandview School District.
Council quizzed Charvet on his overtime totals, noting that as budgeted every employee in the department will average about $10,000 in overtime next year.
Charvet said there was little he could do about the overtime figure, which is again expected to surpass $200,000 next year.
Charvet said two of the issues that drive up overtime costs for his department include mandated training and his officers waiting several hours at a time in Yakima to testify on criminal cases in Superior Court.
Regarding training, Charvet said the employees have to be paid for their time away to train and on top of that he has to bring in other employees to work overtime to fill those shifts.
After Charvet said he schedules his officers for four 10-hour days, or 40 hours a week, Councilwoman Joan Souders asked about the possibility of having employees scheduled for 36 hours per week, leaving the other four hours a week available for training or to fill in during emergencies at regular instead of overtime pay.
Souders said she instituted the policy at her workplace, where she oversees more than 20 employees. The plan has worked to eliminate overtime, she said.
Council also took aim at the police department's SWAT program, wondering if a city the size of Grandview needed the program and its associated costs.
"Times are tough," said Mayor Norm Childress. "Does the city of Grandview really need SWAT training?"
Charvet replied that his SWAT officers train hard for the program, and that Grandview has earned a reputation in the Yakima Valley as a good SWAT unit.
Further, the chief noted that SWAT equipment expenses for the last three years combined total less than $5,000.
Charvet's budget message had other areas of good news, such as $221,600 in savings year to date by housing prisoners in the Grandview city jail instead of sending them to the county jail at a cost of $80 a day.
In addition, Charvet noted that Grandview's 2010 police budget was in the middle or on the low side compared to other similar sized cities in Yakima County.
Also last night, council received brief presentations on the proposed parks and recreation budget for 2011. Given the current economic situation, council decided it was best to put any talks about a new pool on the back-burner.
The pool, which has operated each summer for more than 50 years, had repairs done to it in 2006 that were supposed to last five years. With that five-year mark approaching, council is mulling the possibility of setting aside some money in a contingency fund in case the pool runs into problems next summer.
In other pool news, council asked Parks and Recreation Director Mike Carpenter to look at the possibility of extending the pool closure date to mid-August and open the pool to the general public later in June.
The move would still allow the pool to be open to the swim team in early June.
Bren brought up the idea because the hottest temperatures are usually in August, when the pool closes.
Also last night, City Treasurer John Myers presented a brief overview of budget estimates, including a savings of $41,110 a year by not paying a supporting fee to Prosser Memorial Hospital for ambulance service.
Also, the city will save just over $300,000 next year compared to 2010 expectations as Grandview will not purchase any new equipment.
The Grandview City Council will resume budget discussions tonight, Tuesday, during its regular council meeting which starts at 7 p.m. The meeting will be preceded by a special session at 6 p.m. to discuss the joint library venture with YVCC.