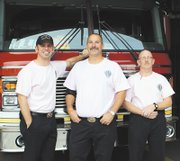 Sunnyside firefighters have donned specially made pink t-shirts for the final week of Breast Cancer Awareness Month.
The fire house is a member of the International Association of Firefighters (IAFF), where 300,000 members are expected to help support the "Care Enough to Wear Pink" campaign.
The t-shirts feature the Sunnyside Fire Department patch on the front and an enlarged version on the back, overlapped with a pink ribbon.
The shirts were purchased from Rainier Embroidery and Design, an Enumclaw company that provides IAFF firehouses with clothing and gear. Half of the t-shirt cost ($11.50 each) will be donated to the Susan G. Koman for the Cure Foundation.
Sixty-three t-shirts were ordered by the Sunnyside Fire Department, but the department is considering a second order if there is enough interest in the shirts.