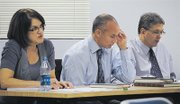 It is unbelievable that the majority of Christians in the United States continues to vote for pro-abortion politicians.
In my opinion, abortion has no future. It cannot continue or the human race will collapse.
The generations that have failed to protect the unborn over the past 40 years will be rejected as the enemy of the young in the future. The younger generation will be unable to carry the burden of caring for the older, feeble generation, and euthanasia of the elderly will be as common as abortion of the unborn is today.
/s/ Robert F. Story Sr., Sunnyside