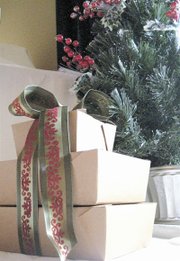 The Miss Grandview Committee is selling holiday treat towers as a fundraiser for the Miss Grandview Program.
The towers cost $15 each and include three layers of treats. In each tower are eight extra large chocolate chip cookies, a large box of caramel corn and a small box of homemade almond rocha.
The towers are perfect as hostess presents, Christmas gifts or for serving guests and family.
Orders for the holiday treat towers will be accepted through the month of November and at the Grandview Senior Center Holiday Bazaar held at the Carl L. Stevens Senior Center Saturday, Nov. 13, from 9 a.m. to 2 p.m.
At the bazaar, community members interested in purchasing a tower can sample some of the treats to be included inside the holiday towers.
The holiday treat towers will be available for pick-up from 2 to 6 p.m. Saturday, Dec. 11, at the Immanuel Lutheran Church hall, located at 300 South Euclid Road.
To order the holiday treat towers by telephone, call Cookie Shannon at 882-3198 or Elena Olmstead at 882-3721.