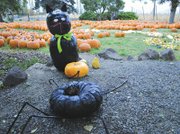 Hoping to make sure Halloween in Sunnyside is as safe as possible, the Sunnyside Police Department has offered tips to make sure that happens.
Police say when choosing a costume to wear Halloween lovers should select ones that are highly visible. Parents should look for light, bright and reflective costumes that make trick-or-treaters easy to see. Reflective tape can be added to costumes, treat buckets and bags to increase visibility.
Parents should make sure costumes fit well. Trick-or-treaters should try the costumes on and walk and play with them with shoes to make sure they fit well. All accessories should be checked to make sure they are secure.
Parents should review safety precautions with their children, including traffic safety rules, such as staying on the sidewalk, crossing the street at crosswalks, avoiding walking in front of, between or behind parked cars, and stopping at driveways to make sure no vehicles are coming in or out.
The route trick-or-treaters take should be planned and supervised in advance. Avoid areas with heavy vehicle traffic and look for well-lit streets with sidewalks. Make arrangements for an adult or a responsible teen to accompany younger trick-or-treaters.
A flashlight with fresh batteries should be carried. A flashlight can help trick-or-treaters see and be seen, but it should never be directed at someone's eyes, including those of passing motorists.