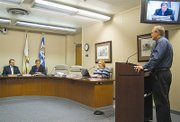 YAKIMA - As promised during a packed public meeting in June, Yakima County is moving forward with a plan to establish a groundwater management area.
The action was taken yesterday, Tuesday, by Yakima County commissioners. It is a first step towards finding out what's wrong with the Lower Valley's groundwater.
Federal officials estimate that one-in-five rural wells in the Lower Valley are contaminated with nitrates, E Coli or both.
Drinking water with high levels of nitrates can cause diarrhea and even worse illnesses, such as "blue baby syndrome" in infants due to lack of oxygen.
The county has nearly $100,000 in hand through a state grant to form the groundwater management area. The idea is to have local, state and federal representatives work together on the groundwater management
Rand Elliott is the county commissioner that represents the Lower Valley, and he said the plan is still subject to approval from the state's Department of Ecology.
Another county commissioner, Kevin Bouchey, said though the groundwater management group will be researching the cause for contamination, it should avoid pointing fingers until the work is completed.
Bouchey said dairies have been suspected by some groups as a culprit for the groundwater issue, but noted there are other potential sources that need to be explored, such as fertilizer application practices from 50 and 60 years ago. He also said there could be faulty septic tanks or poorly constructed wells that could be part of the problem.
"It's a lengthy process," said Elliott. "Today is a first step."