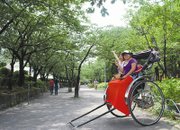 As a sophomore at LaSalle High School in Union Gap, Angela De La Barrera was supposed to study abroad in Japan.
That journey wasn't possible because the young teen grew ill. At the time, she promised herself she would save money throughout the remaining years in high school and while at college so she might one day realize the dream of traveling to the country across the Pacific.
This past summer her dream came true. De La Barrera graduated from Central Washington University and gave herself a graduation present...three weeks in Japan.
She said the trip was made easier because, while in college, she had the opportunity to befriend several students from Japan. She kept in touch with her friends and when the time came, made arrangements to have them serve as tour guides and translators.
"Last fall, I did take a course in Japanese," De La Barrera said, stating the course provided her some communication skills.
A week after she graduated, she embarked on a journey to experience Japanese culture. She said she wanted to visit cultural centers and partake of Japanese cuisine. There were a few historic landmarks the new college graduate wanted to visit, as well.
De La Barrera first landed in Narita Airport in Tokyo. She said her friend Kaori Yokoo hosted her while she was in Tokyo.
The Japanese native took the opportunity to immerse De La Barrera in Japanese culture by taking the American to Shinkoywa, a suburban area of Tokyo.
There, De La Barrera had the opportunity to see how her friends live.
The duo ventured to Harajuku, a popular center of culture. There, De La Barrera was able to see how the Japanese express themselves freely.
"There is a mix of style and fashion sense in Harajuku," said the Sunnyside resident, explaining fashions range from fashionista to punk to gothic.
"What's fascinating is how the styles contrast, but complement one another," said De La Barrera.
Another cultural center in Tokyo is Shibuya. That district, she said, gave her the opportunity to see how the higher class individuals in Japan like to dress. She said the men and women there dress in high fashion. The women wear fancy jewelry and the men wear business suits, expressive of the society in which they live...a part of society with a lot of money.
"I was warned I might experience culture shock, but found the toilets were the most shocking part of the entire experience," said De La Barrera. She explained, stating the toilets in Japan are typically built into the flooring at ground level. A person using the toilet squats over it. Forturnately, De La Barrera said, the toilets do flush.
There were a few establishments with toilets like those in America. She said she was pleased whenever she had the opportunity to use one.
"I guess many people in Japan prefer the traditional Japanese toilet because they feel it is cleaner," De La Barrera said.
The food in Japan, said the young woman, was amazing to her. She learned how to make tempura, and really enjoyed the okonomiyaki, which she said is like a Japanese version of pizza. Another favorite delectable, she said, is what the Japanese call takoyaki, squid balls. De La Barrera said they are a squid-filled ball or dumpling.
While in Tokyo, De La Barrera visited the oldest temple in Japan, known as Asakusa. While at the temple, she and Yokoo toured the surrounding district by a rickshaw.
"It is a traditional transportation mode," she explained.
The Tokyo Tower is another popular destination of tourists, and De La Barrera had the chance to see it. The Sunnyside woman described it as the Japanese Eiffel Tower, which is a red structure.
Following her stay in Tokyo, she moved on to stay with another friend in Gunma. De La Barrera spent four days in the Japanese village set in the countryside.
She said the village sits in an agricultural region where rice is grown. She said it was interesting to see the rice fields.
"Agriculture is the prevalent means of sustainability there," said De La Barrera.
While in Gunma, she also went with her host family to a natural hot springs. She said she was nervous about the experience, but it is a traditional weekly outing for the family she was visiting.
"It felt very nice and I appreciated the natural surroundings...it was beautiful," De La Barrera said, stating she got over her nerves quickly.
The change of pace in Gunma was a welcomed respite from the busy, fast-paced experiences she had while in Tokyo.
She said the temperatures while in Japan were very warm and humid. There was rain while she stayed in Gunma and the day she left there was flooding.
She traveled overnight via train to Osaka, where she met up with another friend.
"I enjoyed more cultural experiences, visited a food stand known for its takoyaki and visited some famous shops," said De La Barrera, stating one shop has a rollercoaster on the top of the building.
She visited Universal Studios Japan Theme Park and Disney Sea in Osaka.
While in the famous city, De La Barrera traveled back and forth to Kyoto to see historic landmarks.
She attended the Gion Festival while in Kyoto at one of its many temples. That festival, she said, was interesting to her because it is a celebration in which young men and boys parade with shrines taken out of a temple.
In Gunma, De La Barrera enjoyed another Japanese tradition. She was able to don a traditional Yutaka, which is much like a kimono, but more elaborate.
"I found it very hard to breath and although the fabric was what is considered a thin fabric, it became very warm," said the Sunnyside resident.
She said there were other aspects of the Japanese culture that both impressed her and made the trip interesting. She ate at the family table with her friends and said the tables are coffee table height. In restaurants she had to remove her shoes.
Bedtime was interesting because of the mats she slept on. "They are like the sleeping mats I remember from kindergarten...the blankets are like a towel," De La Barrera said.
She was, however, pleased the pillows were like those she uses at home.
The entire trip, said De La Barerra, was a unique experience. She said she hopes to one day share a similar trip with her parents and brother.
"I told one of the families, who calls me their other daughter, I would return when their daughter marries," she said.