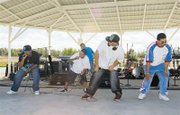 GRANGER - It took the constant encouragement from friends and family to get Lupe Castro to enter the menudo cook-off in 2004.
The Granger woman had been cooking the famous Mexican soup for years and people wanted her to be recognized for her efforts. Those efforts paid off as Castro won the first ever Washington State Menudo Festival.
Fast forward seven years and the results were the same as Castro walked away from this past Sunday's event in Granger to win top honors in the menudo festival for the second time and claim the $300 top prize.
"I won it in 2004 and I decided to enter again, and I won it again," said an enthusiastic Castro.
The recipe dates back 60 years or more and was passed down to Castro from her aunt, whom she said was more like a mother to her.
"She showed it to me and since then I've cooked it for the whole family," Castro said.
Castro was one of 19 people who cooked up a pot of menudo for Granger's seventh annual Washington State Menudo Festival. Castro's style of menudo is very spicy.
"I was very surprised that I won," she said. "When I tasted it before the contest I was hesitant, I didn't think I had it," she said. "Especially considering how many entered."
When Castro won the event back in 2004 she was given a large ladle, an item she has kept till this day. This year's prize, besides the cash, was a plaque. Castro said she plans to enjoy the money with her children and grandchildren.
Joanna Gonzalez of Sunnyside came in second in this year's menudo cook-off. She was awarded $200. Granger's Ramona Cortes came in third and received $100.
Michelle Lee, president of the Granger Chamber of Commerce, said this year's event was bigger than those in the past. She credited a steady supply of music from the seven bands that played at the event.
"We feel it was a very successful event," she said.
Besides the menudo cook-off and the live bands, a volleyball tournament and a car show was held. Approximately 35 entries were in the car show.
Roy Cardenas organized the volleyball tournament and said seven teams entered the competition. Team Buena edged out The Veterans in the finals to take top honors at the tournament. Both teams received t-shirts for their efforts.
Cardenas said he kept the registration fee low and the funds were enough to cover costs plus he said some was left over that would go back to the chamber of commerce.
Lee said another reason why the event was so well attended was the new amphitheater at Hisey Park.
"It gives it a much better sound," she said.