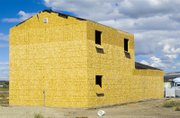 The corner of 16th Street and Lincoln Avenue in Sunnyside is in for a makeover, as last month city planners approved a gas station/convenience store for the busy crossroad.
Situated across from Chief Kamiakin Elementary School, the new mini-mart has a valuation of $667,500. That includes construction and two signs to be erected at the new business.
According to city records, the applicant for the mini-mart is Maverik, Inc. of North Salt Lake, Utah and the contractor is listed as Yesco, LLC of Boise, Idaho.
Maverik, Inc. paid a little more than $8,000 in permit fees to the city of Sunnyside for the project.
The mini-mart accounts for much of the valuation for new building starts permitted during the month of August, as the overall total valuation last month was $854,000.
For the month, Sunnyside city coffers netted a little more than $12,500 in permit fees.
Other sizeable projects permitted last month included two new signs and a refurbished sign pole approved for Lower Valley Credit Union at 301 S. Seventh Street. The project, which also lists Yesco as the contractor, is valued at $63,000. A total of $1,216 was paid to the city of Sunnyside for permit fees.
Another local business upgrading last month was Canam, which received the go-ahead to build a $30,000 storage building that measures 2,400 square feet. Columbia River Steel of Grandview is listed as the contractor. Canam paid the city $750 in permit fees for the new storage building.
There was also an indication of progress at the Sunnyside Airport.
Twin States Flying Service of Hermiston, Ore. was given the green light to build a new shop/office building at the airport. The building is valued at $32,500 and netted $783 in permit fees for the city of Sunnyside.
For the month of August, Sunnyside building officials issued 59 permits, 10 of them for re-roofing projects.
The 10 re-roofing permits have a combined valuation of $28,500, with nearly $850 paid in permit fees.
The city of Sunnyside also gave thumbs up for the back section of a roof and a kitchen addition for a home at 813 S. 10th Street. The project is valued at $10,500 and netted $326 in permit fees for Sunnyside.
Sunnyside also gave the go-ahead for three demolition projects in August; a single-family residence at 300 S. Eighth Street, the photo shop at 317 E. Yakima Valley Highway that had been destroyed by fire, and two rooms of a commercial building at 2600 E. Yakima Valley Highway.
Looking ahead, Sunnyside city officials this month anticipate issuing permits for new construction at Sunnyside High School.