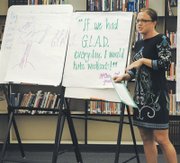 GRANDVIEW - "Wonderful, smart board members deciding gleefully around the table," members of the Grandview School Board sang in unison at yesterday's board meeting.
But this was not choir practice for board members, it was an English lesson taught by GLAD coach Susie Thorpe.
Thorpe, who was hired as a GLAD coach by board members last night, took a moment to teach the Grandview Board of Directors a little bit about the program.
GLAD stands for Guided Language Acquisition Design, explained Thorpe. She taught the board members a quick lesson on parts of a sentence, having them come up with verbs, adverbs, adjectives and prepositions.
Thorpe then took their suggestions and created the sentence, "Wonderful, smart board members deciding gleefully around the table," and sang it to the tune of 'The Farmer in the Dell.'
This, Thorpe said, is an example of how GLAD works. Using music, as Thorpe did with the board members, and various other techniques, GLAD looks to teach students through active participation.
Thorpe explained that GLAD utilizes a student's prior knowledge, patterning and organization to teach students. She also emphasized that students learn to answer that all important question," What made you think that?"
GLAD, Thorpe said, teaches to the highest.
"We don't dumb down any work," she reported. It's a way of scaffolding to kids, she continued. Even those who are not quite understanding something are given the tools to reach the top.
Thorpe, who is a tier 3 GLAD trainer, appeared before the board to explain what GLAD has been doing in the schools.
The program started gradually at the Grandview School District, but Thorpe has now trained 32 teachers in the district to teach using GLAD and now has two resource centers in operation.
The program was started by two California English Language Learning teachers, but Thorpe insists its use reaches far beyond students.
"We are all English language learners," she explained.
Thorpe reported that students have responded well to the unique style of learning. She explained they had recently created a song and dance about energy to Justin Bieber's song, "Baby."
Students could be seen on the playground, she said, singing and dancing to their new song.
The school board was thrilled to hear Thorpe's presentation and approved a motion to send her to a GLAD training seminar in Costa Mesa, Calif.
If Thorpe completes the training, she will become a tier 4 trainer and this will open up a great opportunity for the school district. As a tier 4 trainer, Thorpe will be qualified to teach GLAD's methods to teachers outside the Grandview School District and the district will receive payment for it.