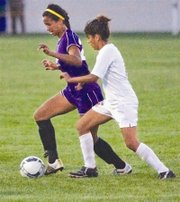 Last year the Lady Grizzly girls soccer team lost to Hanford by a score of 8-0.
Last night, Tuesday, Sunnyside cut that deficit in half with a 4-0 home loss to the Falcons.
"At the end the Hanford coach said our girls were awesome and to keep doing whatever we're doing," said Sunnyside Coach Sylvia Villagrana.
The Lady Grizzlies shut out Hanford for the first 20 minutes of the match, before the Falcons scored twice to grab a 2-0 lead at the half.
The Falcons then tacked on a pair of insurance goals in the second half.
"Their girls had more accurate passing, there was always someone backing up the other player," Villagrana said of Hanford's teamwork.
Sunnyside had some good teamwork of its own, as keeper Perla Ponce had to temporarily leave the match with an injury. Ponce and replacement Ruby Herrera combined for 18 saves against the Hanford attack.
Though shut out on the scoreboard, the Lady Grizzlies had opportunities around the Falcon net.
"Our girls had quite a few opportunities to score," said Villagrana. "We had 11 shots for the match and we were very close several times."
The coach praised Karla Osorio for her chances on offense, and she praised the work of sweeper Analisa Van Oostrum in moving the ball upfield for the Lady Grizzlies.
Sunnyside (0-2, 1-2) travels to play Davis tomorrow, Thursday.