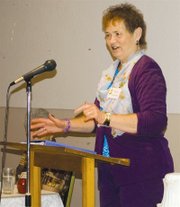 PROSSER - For 50 years Marijo Reineking wondered about her past. Wondered why it was her mother treated her harshly, far different from her siblings, why she was passed around from relative to relative.
"I don't remember ever being hugged or put on anyone's lap," she said of her earliest childhood memories.
Reineking, who lives in Ocean Shores, found out the secret to her childhood and this past Tuesday, shared with the Lower Valley Christian Women's Connection how in the process she found her true identity in Jesus Christ.
Reineking said years later she found out that her mother was raped by her husband's brother and she was born as a result.
"The light bulb went on. I realized she always loved me," Reineking said. "She just hated what happened, the thing she could never allow herself to talk about."
By that time, though, Reineking said she had already learned her true identity as a child of God. "He knew me before I was even born," she said.
She made a decision to follow God when she was a youngster, but said she forgot until she became an adult and started reading her Bible along with gaining Christian counseling. "I may have forgotten, but God never forgets," she smiled.
Further, the childhood woes she counted as trouble she now counts as blessings.
"Give Him your problems," Reineking says. "He will use them for good."
Best of all, she says our identity as children of God is possible because He accepts us, flaws and all.
"Jesus gave His life for our sin," she says. "He accepts us just as we are, then loves us too much to keep us there.