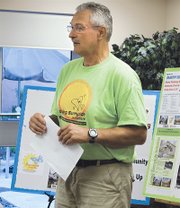 A movement to paint houses and fix up yards for low-income Sunnysiders will continue this fall with a work day to fix up six homes.
That's according to Leroy Werkhoven of the Loving Sunnyside Initiative, who explained the program recently to the Sunnyside Daybreak Rotary Club.
The work day will take place on Saturday, Oct. 23, and begin at 7 a.m. with registration and breakfast at the Sunnyside Christian High School gym.
Werkhoven said he anticipated 150 volunteers to help out at last year's work day, when there were actually 250 who showed up to go to work.
A subsidiary of Transformation Sunnyside, the Loving Sunnyside Initiative has painted 21 homes to date, all at no cost to the property owner.
Werkhoven says there are six homes to be painted this year, and noted that each year property owners are "dumbfounded" when the offer is made to paint their home for no charge.
He said not only are the property owners blessed, some of whom are disabled, but Werkhoven noted the volunteers, too, benefit.
Some of those who are helping are doing community service and Werkhoven said their participation in the Loving Sunnyside Initiative is a way for them to experience the love of God.
And that fits right in with the program's mission of winning "the hearts of individuals to Jesus Christ by demonstrating our love to all individuals."
Werkhoven says help is needed not only in physical labor, but in financing the effort as it costs about $500 to paint each home. The cost covers the cost of paint and supplies, as well as breakfast and lunch for the volunteers.
Werkhoven noted that prayer partners are needed, too.
For more information or to help with the work day, call the Loving Sunnyside Initiative at 837-5371.