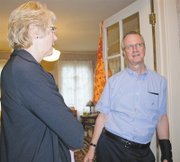 GRANDVIEW - You could call it a semi-retirement for Dr. Albert Fiedler, who began practicing medicine at Grandview's Birch Street Medical Center in 1990.
The longtime Lower Valley physician is leaving the local practice to spend more time with his family and to travel on medical mission trips. He told many gathered yesterday in his honor at a farewell celebration he is also looking at possibly bicycling across the country.
Fiedler has participated in several mission trips with his wife Carrie over the years. He said it is something the duo enjoys. She works with children as a puppeteer while he provides medical treatment to those whom the couple serves.
At the end of this month the couple is planning to travel to India. They will spend approximately two weeks there, helping those with medical needs and spreading Christ's love.
Fiedler said it is a passion the couple shares.
"Dr. Fiedler is loved and respected by (Sunnyside Community Hospital and Birch Street Medical Center) staff, family and community members," said Sunnyside Community Hospital CEO Jon Smiley.
He said the longtime doctor will be missed. Fiedler has been a community advocate, serving as a Prosser School Board member and an active member of the Grandview Rotary Club.
During Fiedler's years of practicing medicine, said Smiley, he delivered nearly 400 babies and has mentored medical students through the Rural Opportunities Program at the University of Washington Medical School, as well as Central Washington University's family medicine residency program and the Pacific Northwest Osteopathic Medical School in Yakima.
Fiedler said he has seen many changes over the years. "The biggest change has been electronic medical records," he noted, stating all medical records were kept in paper files for most of the past two decades.
Some of the doctor's patients he has seen since they were small children are now parent themselves.
Fiedler's oldest child was in first grade when he and his wife moved to the Lower Valley. The couple has five children.
"I feel blessed to have practiced medicine in the town of Grandview where people treat their family doctor in a special way," he said, stating many of his patients have trusted him with their lives and the lives of their children.
Several have been comfortable calling Fiedler at home when in need of medical advice and he has made home visits.
He said, "They opened their homes to me."
Fiedler continued, stating many patients brought fresh baked goods and produce to his office on a regular basis and treated him as if he was a "special guest."
In addition to traveling on mission trips, he and his wife plan to visit their children, who live in the Seattle area.
"But, I don't want to live on the wet side," he said.
Yesterday's farewell celebration was held at Dykstra House in Grandview, but Fiedler said he will be at Birch Street Medical Center through the rest of the week.