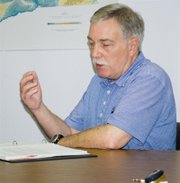 Port of Sunnyside commissioners Jim Grubenhoff, Arnold Martin and Jeff Matson last night (Monday) heard a report on the preliminary 2011 budget.
The report, provided by Finance Officer Carol Carter, indicates the budget will increase by approximately 5 percent over 2010. The general fund for 2011 will be more than $1.55 million. The industrial waste water fund is projected to be more than $4.25 million, also 5 percent more than 2010.
In 2010 the port received more than $688,000 of its general fund revenue budget by August. It is estimated the revenues for the year will exceed the projected revenue by more than $56,000 by December. The excess is expected from land sales, which will exceed $100,000 over the projected budget.
The expenditures for 2010 have been less than expected, as well. Of the $1.48 million projected, the Port of Sunnyside has paid out more than $880,000 as of the end of August 2010. The 2011 expenditures are projected at more than $1.55 million.
For the industrial waste water budget revenues, it was anticipated the port district would receive more than $4.26 million. The revenues are now projected to exceed that figure by approximately $30,000.
Expenditures for the fund in 2010 were projected at more than $4.26 million, but they are now estimated to be lower by approximately $200,000. In 2011 the Port of Sunnyside projects the expenditures to exceed $4.25 million.
Carter told the commissioners she has requested 101 percent of the 2010 tax levy funds from Yakima County. New construction amounted to $7,000 in tax revenue.
Port of Sunnyside Executive Director Amber Hansen explained the additional 1 percent requested from the county. She said, "You can request last year plus 1 percent when calculating the budget revenue each year."