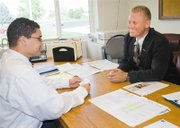 Much has changed in the year since Mark Baysinger took the executive director post with Sunnyside's Promise.
The organization was picking up speed with the anti-gang initiative, but there was much to do if Sunnyside's Promise was going to make a dent in the gang problem afflicting Sunnyside and surrounding communities.
Baysinger hit the ground running with a mission and focus on better serving the youth in the community.
Some of the programs currently in place were already making headway. Lucky 7 Bike Shop, for example, was a result of the anti-gang initiative and volunteers there were committed to helping youth develop job skills.
Baysinger said he returned to his hometown, wanting to help further efforts like those. Previously, he worked with adults and at-risk youth through non-profit programs like the Yakima Valley Farm Workers Clinic's Northwest Community Action Center and People for People. He gained valuable experience through that work he felt would be useful in working with at-risk youth in Sunnyside.
Baysinger was also familiar with the grant writing process that was needed to secure funding for programs Sunnyside's Promise wanted to implement.
He said Lisa Fairbairn has been an extraordinary asset, helping him with the research and ideas for programs now provided by Sunnyside's Promise.
Those programs, said Baysinger, had to focus on intervention, suppression and re-engaging youth who were at-risk or involved in gangs.
"The emphasis has been on helping youngsters stay out of and get out of behavior that puts them at risk," he said.
There are programs like the Juvenile Rehabilitation Administration geared toward helping youngsters who have already placed themselves in harm's way through gang involvement.
Other programs, like the activities provided at the Sunnyside Community Center, focus on giving youngsters an alternative to gang activity.
"I had a feeling, coming into the position, there was a need to understand the problems Sunnyside was facing," said Baysinger.
He said he met with law enforcement officials and the Sunnyside School District to collect data that would help him better understand the gang problem and the greatest risk area associated with gang activity. He found middle school students were at greatest risk through the data provided to him.
To further study the issue, Baysinger met with two individuals who left gangs and two individuals who were still enmeshed in the gang culture. The purpose, he said, was to gain a better understanding of the behaviors and reasons youngsters are drawn to gangs so he could establish prevention programs.
"There are many reasons that contribute to the appeal of gangs," he said of his findings.
Many of the issues today's youth face include family problems, a need to feel empowered and a variety of crisis situations some people fail to understand, according to Baysinger. He said some of the problems might seem minor to older generations, but they affect the youth of today in different ways.
"Protection, money and status become important," he stated, saying the youngsters may feel vulnerable, helpless and under-appreciated because of the circumstances they are in.
"When we put all the information together, we were able to provide intervention in the middle schools," Baysinger said, noting there are case managers in the schools as a result of Sunnyside's Promise's efforts.
He worked with the anti-gang initiative to promote community involvement, as well. That group before his arrival spearheaded the mural painting projects throughout the community, as well as an art in the park program for youngsters. It has since evolved to become an advisory committee through a partnership with Nuestra Casa. Both organizations received grant funding from the Yakima Valley Community Foundation and are committed to reaching out to families. The committee works together with members of the community, both Spanish-speaking and English-speaking, to identify and address gang activity.
"It's a cross section of the community," said Baysinger.
Understanding the community needed after-school programs and activities to engage youth, Sunnyside's Promise began last November to seek funding to re-open the Sunnyside Community Center. The organization partnered with the city of Sunnyside to accomplish the endeavor. The goal was achieved during Spring Break 2010, just about six months after Baysinger took the helm at Sunnyside's Promise.
Because there have been so many programs getting up off the ground in such a short period of time, Baysinger said there has been a surge of interest from the youth. Unfortunately, there is a desperate need for volunteers to meet the needs and interest.
The community, he said, is welcome to question him about various programs in place and why there is a waiting list for the Lucky 7 Bike Shop, for example, or why the soccer field project hasn't seen more progress.
Baysinger's answer for both is more volunteers are needed. He said there has been a great amount of support from various community members, but there is still a need.
The soccer fields need someone willing to clean out rocks and debris. The bike shop needs more individuals willing to take a couple of hours out of the week to mentor the youngsters building bikes.
"We would like to offer more programs and activities at the community center, but we need volunteers willing to invest in the youth," said Baysinger.
That is his current goal. He wants to build bridges and partnerships within the community, getting those who are passionate about helping the youth and desiring to alleviate the gang problem to become more involved.
Baysinger has written proposals for six more grants. Of those, he is seeking funding to address sex trafficking in the community.
"It is a problem in the Lower Valley whether or not the community members are aware of it," he explained, stating he will soon be meeting with those responsible for deciding upon programs worthy of the funding.
"We want to build character, responsibility and self-esteem through programs offered by Sunnyside's Promise, ultimately suppressing gang activity," said Baysinger.
- Jennie McGhan can be contacted at 509-837-4500, or email
JMcGhan@DailySunNews.com