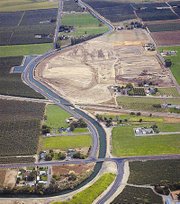 A new re-regulating reservoir is being built east of Sunnyside and when completed will be the final reservoir in Sunnyside Valley Irrigation District's canal automation project in phase one of SVID's conservation project.
The reservoir is at the mid-point of the Sunnyside Canal System. SVID built one re-regulating reservoir north of Granger and has already built one on the lower end of the canal near Whitstran. The newest reservoir is being built between Cantrell Road off of Highway 241 and the Sunnyside canal.
SVID Manager Jim Trull said phase one of the conservation project consists of building the three re-regulating reservoirs, installing 30 check structures along the Sunnyside canal and installing a new system control and data acquisition system.
Trull said there are still some more check structures to install along the canal and the SCADA system still needs to be finished. He estimated phase one would be complete by the spring of 2013, possibly sooner.
Work on the third and last reservoir began in mid-August by Rotschy Construction Company out of Vancouver. The bid amount for the project was $5,213,650.
Trull said the new reservoir will have a capacity of 300-acre feet of water. The completion date is scheduled for July 15, 2011.
"Things are going well," Trull said of the reservoir's construction. "The contractor is making a lot of progress. There is a lot of work getting done while the weather is good. That has been very advantageous for him (Rotschy Construction Company).