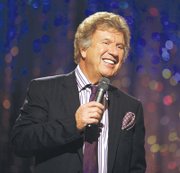 KENNEWICK - The Gaither Homecoming Celebration started out as an accident 20 years ago and today is one of the most popular concert tours in the country.
"It was really a mistake, as most good things are," Gospel music legend Bill Gaither chuckled. "We invited 12 to 15 of our old Gospel (music) heroes to sing with us. We were going to do one song and we ended up singing a bunch of tunes. It was pretty electric."
On Thursday, Oct. 14, the Gaither Homecoming will make its first-ever appearance in the Tri-Cities.
Gaither and wife Gloria have penned more than 600 Gospel songs, many of them standards that are sung each Sunday in churches around the country.
The titles include "Because He Lives," "Something Beautiful," "He Touched Me" and "There's Something About That Name."
After nearly 50 years in Gospel music producing 22 platinum albums, Gaither today is equal parts performer, composer, manager and mentor.
Gaither, 74, enjoys all of the hats he gets to wear.
"I love all the aspects of it and I want to keep doing it as long as God gives me good health," he says.
The Homecoming program has him squarely in the spotlight now, as videos from the concerts regularly show up on cable TV and concert venues routinely sell out.
The tours have sold more than 1.1 million tickets across the world, and have included such notable venues as the Kennedy Center and Carnegie Hall.
Next month's audience in Kennewick's Toyota Center will be treated to what Gaither estimates will be about a four-hour concert. "People get their money's worth," he said.
The first hour will feature the Gaither Vocal Band, which includes Gaither as well as Wes Hampton, David Phelps, Michael English and Mark Lowry. Also a Christian comedian, Lowry is back with the Gaither Vocal Band after previously performing with the group for 13 years.
Alumni of the Gaither Vocal Band include Christian solo recording artists Steve Green, Larnelle Harris, Carman, Sandy Patti and Russ Taff.
The Tri-Cities concert will also feature performances by a dozen additional artists, including the Isaacs and the Martins.
Gaither says the concert is about remembering classic songs and classic artists that carry a timeless message about Jesus Christ.
"Old pop and country singers can go to Vegas or Branson, but there are not many venues for old Gospel singers," he said.
Gaither says the audience is also invited to sing along with the artists.
"We are not a spectator event," Gaither said. "We are more of a participating event."
As a boy growing up in Indiana, Gaither said he first became attracted to Gospel music through four-part harmonies.
But it would not be until his 30s before he pursued Gospel music on a full time basis.
Gaither was a high school English teacher in his native Alexandria, Indiana for 10 years before he finally made a career out of writing and performing Gospel music.
"After school I'd come home and work on the music at night," he said. "At first we'd be excited to get one or two orders in the mail. When it got to the point that the night job took over the day job, I told the school district I'd have to resign."
Today, Gaither says he sees a new generation of young people who are learning to appreciate harmonies for the first time. "We're encouraged by that," he said.
Gaither said he is excited to bring the Homecoming live to a new audience in the Tri-Cities and the Columbia Basin.
"It's always fun for us to come to new areas," he says. "The Northwest has a totally different flavor than the rest of the country. It has a lot of free spirit and I like it."
Gaither says the audience here will like what it hears at the concert.
"Anyone who loves good theology and good poetry and good musical skills will enjoy it," he said. "They're gonna love the night."
The Gaither Homecoming Celebration is scheduled for 7 p.m. on Thursday, Oct. 14, at the Toyota Center, 7016 W. Grandridge Blvd. in Kennewick.
Ticket prices are $29.50 and $39.50 and available at www.ticketmaster.com or at 1-800-745-3000.