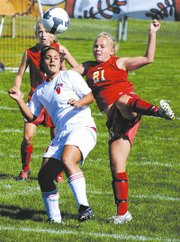 In a case of unmet expectations, the Sunnyside Lady Grizzly soccer team struggled from the get-go in an 8-0 home loss to Kamiakin this past Saturday.
"I expected something different," said Coach Sylvia Villagrana. "Our players were watching and not committing to going to the ball."
The visiting Braves took advantage to the tune of six first half goals, three of them in a span of just nine minutes.
"It was very frustrating," Villagrana said. "The Braves didn't have to work that hard to get their goals, just two or three passes and it was in."
Sunnyside rallied in the second half to slow the Kamiakin attack, holding the Braves to two goals the rest of the way.
"In the second half the girls stepped up," Villagrana said.
The spirited Sunnyside defense was led by keeper Marisol Gomez with 13 saves.
On offense, the Lady Grizzlies had few opportunities, Villagrana said, noting her squad only had six shot attempts.
"Our best opportunity came in the second half when we were one on one, but we were offsides," she said.
Villagrana said she plans to meet with her team to raise expectations. "We're going to talk about what the girls have to offer for the rest of the season," she said.
She noted there is a possibility a couple of JV players may also be promoted to varsity to help the Lady Grizzlies.
Sunnyside (0-5, 1-6) returns to action tomorrow night, Tuesday, to host West Valley.