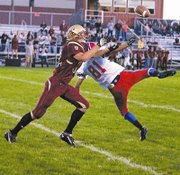 Last year the Sunnyside Christian High School eight-man football team surrendered 48 points to Touchet.
Now in their second-year as a football program, the Knights this past Friday showed progress by nearly holding the always-tough Indians to just a touchdown for the first 20 minutes before falling in a 33-0 home loss.
During those 20 minutes of tough-as-nails defense, Steven Broersma collected an interception to stop one Touchet drive in the first half and Ryan Burton recorded a sack for the Knights.
The Indians finally found some fireworks in the final four minutes of the first half by scoring two touchdowns to go up 21-0 at the half.
"For most of the first half we were playing our big defense and we picked it off when they went deep," said Sunnyside Christian Coach Ray Hernandez. "But they started running on us more so we had to change things up a bit and got burned in the secondary. If we try to stop one thing it costs us somewhere else because we don't have the depth at this point."
As a result, the back-breaking Touchet touchdowns late in the first half came on big plays downfield. One was a reverse that broke for 40 yards and the other a pass play that also covered about 40 yards.
"After that our heads were kind of down," Hernandez said.
Touchet then capped the game with a pair of touchdowns in the third quarter to pull away.
Hernandez said his team had some trips into the red zone early in the game, but with tailback John den Hoed still out with an injury it was difficult to sustain an attack against Touchet's defense.
"We had some good tries, but they started crashing their tackles in," he said. "We were limited to what we could do, it was hard to run our traps."
Hernandez also praised the Indians for their play.
"They're disciplined," he said. "Their ends gave us a lot of the trouble off the ball." It also helped that Touchet had 35 players, nearly double the 19 Sunnyside Christian players who suited up.
Hernandez did not have any individual offensive stats available, but said for the first time this season his team was held under 100 yards passing and did not have at least one runner record more than 100 yards rushing.
Sunnyside Christian will look to get back on the winning track this Friday against Pomeroy at a home game that will be played in Marquette Stadium in Yakima.
Hernandez said he told his kids after the game that they're showing progress from that first season last year. Now it's just a matter of putting it all together to get back in the win column.
"We're right there on the verge," he said. "We've got to get over that little ledge."