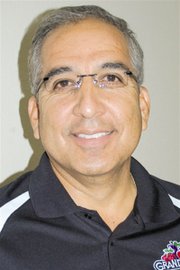 GRANDVIEW - The interim label can be removed from Cus Arteaga's job title at the city of Grandview, as last night he was named the city administrator on a permanent basis.
Tuesday night's move saw council approve a recommendation by Mayor Norm Childress to hire Arteaga to the post permanently.
Childress praised Arteaga's work in leading the city through several public works projects over the past few months - including a downtown makeover.
Arteaga, a longtime public works director for the city, had held the top post on an interim basis since the resignation of Scott Staples this past February.
Grandview decided to hire Staples' replacement through a search of in-house candidates. Besides Arteaga, the only other candidate for city administrator was deputy city clerk Elizabeth Alba.
In making the announcement last night, Childress said Arteaga will continue to serve as both city administrator and public works director.
The move sparked some concern by Councilman Mike Bren, who noted that Arteaga wasn't "getting any younger." The concern is that Arteaga might burn out from doing both jobs.
As a result, Bren suggested that at some point the city hire some extra help for Arteaga.
In response, Arteaga said he was working on some ideas on how to share the workload.