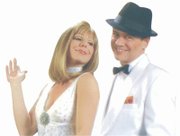 The Lower Valley Community Concert Association has begun its annual membership drive and subscribers can purchase season tickets for reduced prices until May 31.
New subscribers will get an extra bonus; admission to the May 9 concert.
"Barbra & Frank, The Concert That Never Was," will be performed at Sunnyside High School on Monday, May 9, at 7:30 p.m., and will feature the songs and music of Barbra Streisand and Frank Sinatra.
Singers Sharon Owens and Sebastian Anzaldo perform as Streisand and Sinatra, including duets such as "Somewhere," "Something Stupid" and "New York New York," along with other standards.
Concert-goers can expect a blending of two signature voices as Sinatra croons verses from "It Was A Very Good Year," intertwined with Streisand's memorable "The Way We Were."
They will be accompanied by a virtuoso pianist performing on the grand piano at the Sunnyside High School auditorium.
During the annual membership drive, adult season subscriptions for the entire season cost $45, and a family season subscription for two adults and two students costs $95.
As of June 1, these prices increase to $50 and $105, respectively.
Student subscriptions are $15, and students up to 18 years of age may attend one performance for $5.
The remainder of the 2011-12 LVCA season will start a little later due to construction at Sunnyside High School, with the auditorium being refurbished and enhanced for even better acoustics.
After performing at the Kennedy Center and the National Gallery of Art, "The Poulenc Trio" will provide a unique repertoire featuring oboe, bassoon and piano on Sunday, Nov. 20, at 3:30 p.m.
You can attend an Anita Chen performance at New York City's Carnegie Hall, or for one night only at the Sunnyside High School auditorium, on Friday, Feb. 3, 2012, at 7:30 p.m. This virtuoso pianist and violinist has been performing on both instruments since she first attended the Julliard School of Music at age 7.
Expect to hear the music of Duke Ellington and Jimi Hendrix, when "Indigo Ensemble," a jazz quartet of guitar, violin, bass and piano, takes center stage for one night only at Sunnyside High School on Sunday, March 11, 2012, at 3 p.m.
Finally, expect three flamenco dancers, a guitarist, vocalist, bassist and a percussionist when the "Chris Burton Jacome Flamenco Ensemble" performs in Sunnyside on Tuesday, May 8, at 7:30 p.m.
As an additional bonus, any LVCA subscriber may also attend concerts at other community concert associations at no additional cost, if space permits, under reciprocity agreements. Just call ahead and reserve a seat in advance.
Many LVCA subscribers attend the Tri-Cities Community Concerts Association performances, and there are community concert associations in many other cities including Moses Lake, Wenatchee, The Dalles, Ore., Pendleton, Ore. and Baker City, Ore.
For more information about the Lower Valley concert series and the upcoming season, call Barbara Skinner 839-5222, Jean Corliss 882-1668, Liz Donaldson 509-786-3070, or Carlina and Jorge Lobos at 509-829-6596 (also in Spanish).
Information on the concert series is also available at www.lowervalleyconcerts.embarqspace.com/.