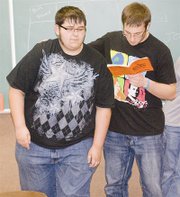 The students involved in Sunnyside Christian High School's drama program will at the end of this month stage "The Hunchback of Notre Dame."
The production is a creative adaptation of the original novel by Victor Hugo.
The adaptation by Patrick Rainville Dorn is meant to be comedic, said Director Candace Bosma.
She said her students hope to entertain their audiences through the mishaps inserted into the play, as well as the fast-paced delivery of the script.
The cast of characters include Quasimodo, portrayed by John Newhouse, and the gypsy princess Esmeralda, portrayed by Alex Laws. Betsy Knots plays the character of Burnhilde, Ryan Burton is Phoebus, Paquette is portrayed by Alyssa Haak, Bren Tyhus portrays Frollo and there are many other fun characters in the production.
Another fun fact about the production is the setting is outside the great Notre Dame cathedral 50 years after the original story's fateful events.
A troupe of youthful players leads the rabble of Paris...and sometimes even the audience.
"There is a lot of audience participation," said Bosma.
She said "The Hunchback of Notre Dame" will be staged at 7 p.m. in the Sunnyside Christian Elementary School gym on North Avenue.
The debut will be Thursday, April 28. Friday, April 29, and Saturday April, 30, the cast will also perform at 7 p.m. A matinee will be staged Saturday, as well. That performance is set for 2 p.m.
Cost of admittance is $5 for adults, $3 for students.