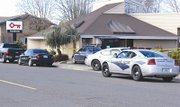 GRANDVIEW - Police are still searching for a man who robbed the Grandview Key Bank branch yesterday, Thursday.
Grandview police say the man entered the bank at about 11:30 a.m. yesterday and displayed a hand gun.
Four employees and one customer were inside the bank at the time.
After taking an undisclosed amount of money from tellers, police say the robber, whose face was covered, sprayed the inside of the bank with a pepper spray-like substance and fled on foot.
Grandview fire and aid crews assisted victims exposed to the pepper spray and all were treated and released at the scene.
As for the bank robber, Grandview police, Prosser's k9 unit, as well as deputies from Yakima and Benton counties were unsuccessful in locating the man.
Anyone in the area at the time of the robbery who saw anything unusual is asked to call Grandview police at 882-2000.
The case has been referred to the FBI, which is now leading an investigation into the bank heist.