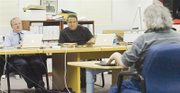 The Sunnyside School Board made a decision at last night's meeting on where they want fiber optic cables to be installed when Yakima County comes to town.
Sunnyside School District Director of Technology Nick Olinsky told the board that Yakima County is in the process of extending fiber optic cables into the rural areas of the county. Currently the county is installing fiber optic in Mabton and will make its way up the Sunnyside-Mabton Highway soon.
At a recent meeting between the county and other government agencies in Sunnyside, the county asked the school district where it would like the fiber optics installed.
Olinsky said the current path for the fiber optics is up Sunnyside-Mabton Highway to Edison Avenue, over to City Hall, south to the fire station to the Sunnyside library on Grant Avenue and then west up Harrison Hill. The county has a tower that will be connected to the fiber optic cable on the hill.
The school board decided the best place for its share of the fiber optic cable to be installed at the intersection of Lincoln Avenue and 16th Street, and Edison Avenue and 16th Street.
Olinsky said the fiber optic cable won't be installed just yet, instead either a loop or what is known as slack will be left at the location and then hooked up at a later date.
If it's a loop, the county will leave enough fiber optic cable coiled up around a pole to reach its intended destination at a later date. If the county decides to use the slack method, a large amount of fiber optic cable will be kept in a casing and spliced at a later date.