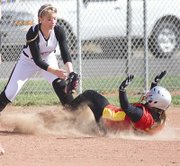 The Sunnyside Lady Grizzly softball team didn't have an answer for powerful Kamiakin this past Friday in a pair of 15-0 losses to the visiting Braves.
"Their offense is pretty solid," said Sunnyside Coach Ralph Mendoza. "They're one of the elite 3A teams."
Kamiakin showed all that and more, pounding the ball to the tune of 16 hits in game one alone.
The Braves were also dominant on the pitching mound, twirling a no-hitter in game one.
The Lady Grizzlies managed a pair of hits in the nightcap. The base hits were delivered off the bats of Maria Olivera and Andie Graham, who smacked singles in the second and third innings, respectively.
Mendoza noted Sunnyside was able to get runners into scoring position in game two, but couldn't find the clutch hit to bring them home.
"Their pitcher was very dominant and it didn't help that she was pitching with the wind at her back," he said of the unusually quiet Lady Grizzly bats. "She was bringing it."
Amber Cornwell pitched both games for Sunnyside, while Johanna Chumley caught both ends of the twin bill. Both contests ended after five innings.
Mendoza said 2011 is a rollercoaster season for his young team.
"The girls have to bear with each other," he said. "We're a young team and we have to take it now," he said of the lopsided losses. "But later on they'll be able to dish it out. We just have to grow as a team and grow as individuals."
The Lady Grizzlies (0-7) return to action this Friday at Eastmont.