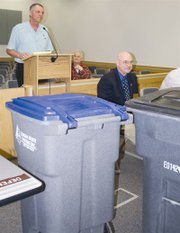 Scott Robertson of Yakima Waste Systems last night provided the Sunnyside City Council with a brief presentation of three services that might be offered here.
Robertson said the services were broken down into proposals for replacing the three-can garbage pick-up program, adding curbside recycling and adding pick-up of yard waste to the services provided.
The three-can service would be replaced with 96-gallon carts at an additional 60 cents per month per home, he said. That would mean a garbage service bill that is currently $10.06 per month would increase to $10.66 monthly.
The city of Sunnyside would also benefit from the revenue, receiving 9 percent of the 60 cents.
"Curbside recycling equals two-32 gallon cans," said Robertson. Recycling cans have blue lids and each resident that uses the service would receive instructions detailing what recyclables can be disposed of through the service.
The service, he said, would cost another 60 cents per month from residents using the service if it was universal. A voluntary program would only be possible if 500 residents signed up for the program.
The city, said Robertson, would have to sign a 10-year agreement because of the cost of the truck used for the service.
Yard waste disposal, he said, would also require a 10-year commitment from the city. Robertson said the cans would be distinguished by the color of their lids and the program would cost homeowners $6.50 per month if the program was universal. A minimum of 500 residents would have to sign up for the service if the city decided upon a voluntary service.
The voluntary yard waste collection program would cost more than $7 per month per household.
Because last night's meeting was a workshop, the council members agreed local residents would need to have an opportunity to provide council with input regarding the services.
It was agreed the Sunnyside City Council would further explore the services to make a decision at a later date.