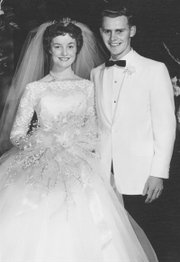 On Thursday, April 7, Hank and Henrietta Bosma of Zillah will celebrate 50 years of marriage. The couple married in Artesia, Calif. in 1961 and has made a living as dairy farmers in the area for the last 38 years.
Together, the Bosma's have four children, all of whom continue to live in the Yakima Valley. They are Rosie (Jerry) Haak of Outlook, Steve (Julie) Bosma of Granger, Robin (Andy) DenHoed of Grandview and Henry (Stacy) Bosma of Outlook.
The couple is also the proud grandparents of 15 children.
The Bosma's will celebrate their golden anniversary in the company of family and friends at Birchfield Manor Country Inn in Yakima, as well as take a family trip to San Diego this summer.