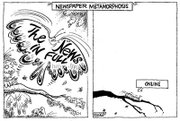 This past weekend the reporters at the Daily Sun News participated in a conference offered to Eagle Newspaper editorial staffs.
A highlight for me was a focus on using new ways to serve our readers, such as through Twitter and Facebook.
Of course, along with that was encouragement for editorial staffs to develop a social media policy.
The DSN doesn't have a Facebook or Twitter account, at least not yet, but I wonder what they would look like, what they would feature.
For example, would there be a DSN Facebook account geared towards sports coverage, or perhaps others that focus on schools or local governments?
While those are considerations to think about for the future, what is interesting is to see the on-line progress the Daily Sun News website has made just in the past year or so.
No doubt many of you are already well aware of the ability to comment on stories posted on the website. Good or bad, I think comment streams are here to stay.
A very recent development on-line that you may not have yet noticed is that all of the Daily Sun News special sections are now published on the website.
The program has a look and feel of leafing through a print publication, with pages flipping ahead or back.
I'm excited about this development because the work DSN staff puts into special sections will take on a whole new and extended life on-line.
As for this paper delving into social media, what do you think?
What are some ways we could better serve you and the community by extending our presence on Twitter and Facebook?
Let us know.
We are, after all, the community's newspaper and it'd be great to get the community's perspective.