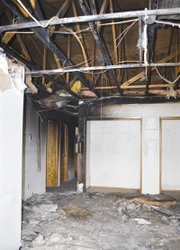 GRANDVIEW - Jerry Castilleja and Vicente Ruiz hadn't operated their new business, Integrity Support Services, for even a week before yesterday's (Tuesday) fire in the office caused them to suspend business.
Grandview firefighters responded to a fire call at 303 South Division Street just after 8:45 a.m. yesterday.
Grandview Fire Chief Pat Mason said smoke was apparent and firefighters found the building, which also houses the chiropractic office of Dr. Dennis Byam and Dr. Jeremy Anderson, filled with smoke. Smoke was billowing out of the attic area and the Integrity Support Services office was "charged" with it.
Firefighters made entry and extinguished the fire, which was later determined to have started in a fluorescent light fixture located in the reception area.
Smoke was removed from the office, as well as the neighboring chiropractic office.
A firefighter was struck by a second light fixture that fell as a result of the fire. He was sent for medical evaluation, said Mason.
The property is owned by Byam and partner Gary Darragh.
Darragh said he believes most of the damage, which includes rafters, joists and ceiling tiles, can be repaired in a short period of time.
Castilleja said his business will be suspended for at least two weeks. He and his partner offer chemical dependency outpatient care.
"I hope to be back in business in two weeks," said Castilleja.
The damage was estimated to be between $20,000 and $25,000, according to Mason.
The chiropractor's office sustained smoke damage.
The Grandview Fire Department received assistance from Sunnyside, Mabton and Prosser fire departments, and the fire was contained at approximately 9:10 a.m.