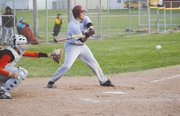 GRANDVIEW - The Greyhounds hosted the Zillah Leopards yesterday (Tuesday) and absorbed one more loss to their season.
Zillah put up a strong first inning, scoring four runs against Grandview pitcher Mitchel Wagoner.
Grandview Coach Matt McKinstry pulled Wagoner and placed Erik Sauve on the pitcher's mound. Sauve pitched the next three innings against the ferocious Leopards, allowing three more runs in the fourth inning.
Anthony Perez replaced Sauve in the fifth, with the Leopards adding one more run in each of Perez's two innings.
Grandview's Trent Mottice finished out the game. He faced eight batters and struck out three, but still allowed two runs.
Meanwhile, the Greyhounds scored one run in the first and two in the third, giving Zillah an 11-3 win.
At the plate, Mottice went two-for-three with an RBI. Both hits were singles.
Wagoner also went two-for-three, hitting a double and driving in two runs.
The Greyhounds recorded four errors in the game.
McKinstry said his team is looking to have a better approach at the plate.
"We need to be swinging more aggressively," he said.
Grandview (2-5, 2-7) is hoping to end its four-game losing streak this Saturday when the 'Hounds host undefeated Selah in a doubleheader.