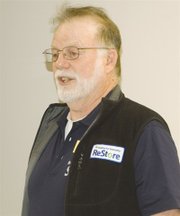 The Store is a Habitat for Humanity second-hand store for building and remodeling materials, tools and appliances.
There are 25 stores in the state of Washington and Habitat for Humanity hopes to make Sunnyside the 26th.
That's according to Rich Kallenberger, manager of the Store in Yakima. He spoke Wednesday morning to the Sunnyside Daybreak Rotary Club.
He said the store is a fundraiser for Habitat for Humanity that sells everything from windows to paint and, yes, even the kitchen sink.
The store in Yakima has grown to the point that it now occupies a 10,000 square-foot space at 21 West Mead Avenue and sells enough materials to build one additional Habitat home each year.
Overall, Habitat for Humanity builds four to six new homes each year in the Yakima Valley.
With the growth at the Yakima store, Kallenberger said Habitat for Humanity is looking to expand the idea to Sunnyside. He said the search is on to find an 8,000 square-foot space.
One key to making the Sunnyside store reality, Kallenberger said, is to find volunteers willing to work at the store so most of the money can be used to build homes in the Sunnyside/Lower Valley area.
He said another key element is having contractors and others willing to donate material to a store here.
If a store in Sunnyside opens, Kallenberger estimates it would create one new, full-time position with benefits.
For more information about The Store and its interest in Sunnyside, contact Kallenberger at 509-576-8077.