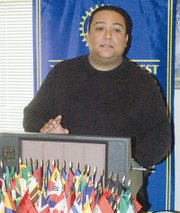 Sunnyside School Board President Miguel Puente was the featured guest speaker at Monday's Sunnyside Noon Rotary Club meeting and he updated club members on local school operations.
The Sunnyside School District has 6,145 students. Of that number, 88.5 percent are Hispanic, 9.6 percent are Caucasian and 1.9 percent are listed as other.
Of those 6,145 students, 97 percent qualify for free or reduced priced lunches. Puente explained that a few years back school district officials decided to give every student free lunches because of the overwhelming number that already received them.
The graduation rate at Sunnyside High School is 65 percent with 6 percent of the students dropping out.
That number can be a little misleading, Puente added. For example, if a student is a fifth-year senior, they are considered a dropout. Also, if a student moves away from the area and the school district is not notified, they are also considered dropouts.
A little more than one-fifth (21 percent) of Sunnyside students are migrants and 12 percent of the students are in special education.
The school district operates on a budget that is split into five funds. Puente said there is the general fund, the capital projects fund, the transportation vehicle fund, the debt service/bond fund and the associated student body fund.
The current 2010-11 general fund totals $63,401,039. The capital projects fund for the same year is $44,802,717. Puente said this fund is a little elevated due to the construction going on at Sunnyside High School.
The transportation vehicle fund started with $582,000. The debt service/bond fund operates with $2,155,568 and the ASB fund totals $527,839.
Puente said 70 percent of the school district's revenue comes from Washington state and 27 percent comes from federal sources.
When it comes to expenditures, 69 percent of the general fund goes to instructional support, 17 percent goes to school based support and 14 percent goes to district level support.
It costs the school district $61.59 to educate one student for one day.
The school district's vision, Puente said, is that all students will be successful.