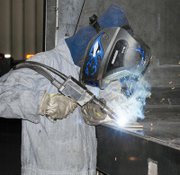 A sign posted outside Star Trailers caught Abbeigh Gurwell's attention as she drove to school last month. It said, "Welder Wanted."
Even though she is still a high school student, Gurwell is a welder and though she was told there was no way she would get the job, she applied anyway.
Star Trailers had never hired a female welder before, though co-owner David Waller says they have applied. But Waller is careful about whom he brings into the shop and when he gave Gurwell a welding test, he says he was impressed with her work.
The test was welding two very thin sheets of metal together. Gurwell set to work and Waller said she burned a hole as she went. But the mistake was minor and he was pleased to see she automatically went back to fix the hole before she even lifted her mask.
It's that precision of work and the ability to check her work as she goes that impressed Waller. "That was a big thing for me," he said.
He says she performed just as well as any other applicant on the test and had no reason not to hire her.
"I've hired numerous high school kids to work here," Waller said, "so long as they have an attitude of wanting to learn and get some experience."
That was definitely Gurwell's intention when she was offered the job. She was willing to learn and the experience was something she knew would impact the rest of her life.
Gurwell took welding classes at Sunnyside High School under the instruction of Tom Dolan, who Waller revealed once worked for Star Trailers. Gurwell was just looking for an easy class when she signed up for shop.
"But I really liked it and I was one of the few girls who could weld really well," she recalled.
After three years of taking Dolan's classes, Gurwell decided to focus on welding for her senior project. She welded a metal silhouette for the project.
Despite the fact she enjoyed welding so much, Gurwell was unsure if she wanted to pursue it as a career until Waller gave her the job at Star Trailers.
"I am definitely sure this is what I want to do," she revealed.
Work at Star Trailers can be tough for this petite teenager. Waller knew when he hired her there would be things that she simply would not be able to do, such as lifting some equipment, but Gurwell says the rest of shop is really good at helping her.
"I could not have asked for a more family-like environment," she said.
The crew is more than willing to help her, but they maintain a high standard of quality, too. "If they see me doing something inefficiently, they'll come over and tell me."
Waller says work with the company can be a bit unpredictable and that his shop crew doesn't always need to be so large, but he is confident that Gurwell has received the training she needs to easily land another job if she wants.
"I see this as a stepping stone for her," he said, noting that she has learned a variety of cuts and can weld overhead. "And it's very seldom she can't do something."
Gurwell is excited to continue her own education in this unique field. She wants to attend Columbia Basin College next fall and study in its welding program. One day she hopes to become a pipe fitter and maybe even open her own welding art shop.
And welding is definitely an art, for both Gurwell and Waller.
"It's something you miss when you can't do it," Waller revealed. Welding is more like a hobby to them - a hobby they can earn a living doing.