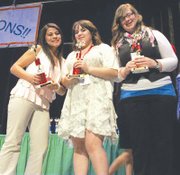 Several students from the Sunnyside School District earned recognition at the recent Washington State Science and Engineering Fair.
From Sunnyside High School, Sara Berumen, Amanda Villareal and Cynthia Van Wingerden all earned first-place honors. Van Wingerden also earned a special award from the Water Federation.
Earning second-place honors were Amanda Bestebreur, Tara Van Corbach, Jesus Suarez, Abbigail Gomez, Maria Quintero, Baylie Yates, Ruhui Yan and Anthony Correa. Yates also received the Olympic College President's Award.
SHS students garnering third-place honors were Adelina Paz, Ricardo Orea and Yesenia Bracamontes.
Honorable mention recogntition went to Jessica Bonilla, Marhty Hernandez, Juan Rodriguez, Fernando Villafana, Jasmine Gonzalez, Oscar Figueroa and Geordan Syles.
Harrison Middle School students earning awards were led by Alyson Spidle with first-place honors. Andrew Diddens, Leah Diddens and Ashley Davis also finished in second place.