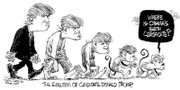 Several people that lean towards the Republican side of seeing things have recently been testing the waters for a possible presidential run in 2012. One of them is Donald Trump.
I have nothing against The Donald. When he was in a war of words with Rosie O'Donnell I sided with him. I've watched his show, The Apprentice, a couple of times and found it watchable. And if I had to choose between Trump, Sarah Palin, Michelle Bachman or Newt Gingrich for President of the United States, I would choose The Donald.
For one thing, he's a billionaire. I would think that would mean he couldn't be bought. I could be wrong, but it makes sense. Also, since he is a billionaire, one would think he might know what he's doing when it comes to making sound financial decisions.
But just when he had me thinking that a President Trump might be an interesting idea, he comes out and jumps on the birther bandwagon.
You know who the birthers are, don't you. Those are the totally clueless, ignorant whack jobs that think President Obama was born in Kenya, instead of Hawaii. One would think that the birther idiots are a small group of people, but polls show that nearly 20 percent of the American people believe this. And people wonder why the rest of the world thinks Americans are stupid.
A recent story in Faux News states that The Donald has sent a team of; oh, I don't what they would be called, to Hawaii to investigate the matter. I guess Trump thinks his idiots can do a better job than the other idiots who have tried before him.
The story on the Faux News website claims the "Celebrity Apprentice" star has shot up in the polls as a potential GOP nominee in part because of his questions about whether Obama is constitutionally allowed to be president.
"I have people that actually have been studying it and they cannot believe what they're finding," Trump told NBC's Today show.
Really?
Trump claims Obama doesn't have a birth certificate, or at the very least, hasn't shown it.
For those who doubt Obama was born in Hawaii please visit: www.snopes.com/politics/obama/birthcertificate.asp. Still not convinced? Then visit www.factcheck.org/elections-2008/born_in_the_usa.html. Need further proof, look right here: www.politifact.com/truth-o-meter/article/2008/jun/27/obamas-birth-certificate-part-ii.
I don't care what political affiliation a person has in the White House, I just don't want him to be a kook. And The Donald is starting to sound as kooky as Rosie O'Donnell is.
And to me that's scarier than a so-called American President that was born in Africa.
Just saying.