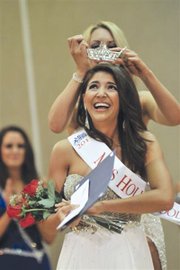 A walk to help raise money for the fight against multiple sclerosis will take place in Sunnyside tomorrow (Saturday).
The walk will begin at 8 a.m. at the Sunnyside entrance to the Lower Valley pathway (across from Sunnyspot/Mid-Valley Mall).
Multiple sclerosis is an autoimmune disease that affects the brain and spinal cord.
The walk is being organized by Saundra Combs, who is currently Miss Hollywood in the state of California. With the help of her parents, Dr. William Combs and his wife Trish, of Sunnyside, the Sunnyside Lion's Club, the Sunnyside Hospital and its clinics, the walk is part of Miss Hollywood's personal platform as she gets ready to run for Miss California and hopefully Miss America.
Combs said she feels strongly about MS because it's something she went through recently. She doesn't have multiple sclerosis, but she has had one episode of the disease. She explained that she can't be classified as having the disease because she's had only one episode.
Her symptoms included having blurry vision in her left eye. She went to the doctor after a week and was diagnosed.
"I had never heard of it before," she said. "I wanted to help raise awareness about it."
She is currently being routinely checked out by a doctor every few months to keep track of the disease's progress.
Saturday's walk is free but donations are encouraged. Trish Combs said donations of $10 or $15 are being sought.
The route will take walkers to Sunnyview Park and then back to Sunnyside. A table will be set up at the starting point at 7:45 to collect donations from people who choose not to walk, but still want to contribute.
Combs, who lives in San Diego and works at Abercrombie as a recruiting manager, will not be in Sunnyside for the walk. She is organizing another walk for MS in Southern California.