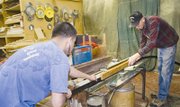 Meeting Steve Beal, owner of S&P Cabinets, Inc. in Sunnyside, one might be taken by surprise.
He is a vocal man, passionate about his work. However, his business doesn't stand out in the community like many others.
Beal has been making cabinets since 1976. For 28 years he was employed by Ken Hobbs, owner of what was once Ken's Kustom Kabinets in Sunnyside.
When Hobbs passed away, Beal said, it was uncertain which direction the business would go. Hobbs' son ran the business to pay some bills but later sold the property on McLean Road to the Port of Sunnyside.
Beal was concerned about having a job and explored the possibility of opening his own shop on the same property.
That was about seven years ago. "I leased the property from the Port of Sunnyside," he said.
Since then Beal has been a steady and reliable businessman. He doesn't seek out recognition for his work, but instead relies upon old fashioned word-of-mouth to drum up clients.
He has designed and built cabinets for customers throughout the Pacific Northwest and continues to do so.
When asked how Beal learned his trade, he said he took a vocational carpentry class in Oklahoma. He met and married his wife, Peggy. When the couple moved back to her hometown of Sunnyside, Beal was looking for a job. That's when Hobbs hired him.
Beal admits many locals aren't familiar with his business. "Most of them know Peggy," he laughs.
"Those who find out about me have done their research and have talked with their friends," said Beal.
All his work is custom-made to fit the needs of the clients whom Beal serves.
"Nothing is pre-fabricated," he said.
The process of designing cabinetry, whether for a home or business, involves a personal visit by Beal. He measures the space and discusses with the customer the details. He finds out what type of wood the customer would like and if the client is seeking to have an artistic touch added to the cabinets.
"I even built an old fashioned refrigerator for a customer who wanted an ice box in their cabin," said Beal, stating it was one of his more unusual orders.
He takes pride in his work, too. "I'm picky and I don't like to forget anything," said Beal.
Because he is a stickler for the details, Beal said he hasn't had customer complaints.
Like many business owners, Beal said he has struggled along with the economic downturn. He said his biggest hope is to keep working steadily, but where he had three employees before, he now only has one.
"Our valley was slow to feel the impact of the economy, but when it hit, it affected me," said Beal.
He said he is hopeful like many others that business will continue to pick up.
Although custom cabinetry requires a diligent mind and a lot of manual labor, Beal said it is what he loves and it is what he hopes to continue doing for as long as he possibly can.