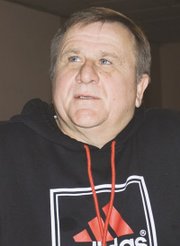 PROSSER - Two main points were driven home at last week's monthly grape fieldman's breakfast sponsored by Washington State University's Prosser Extension Service.
Gary Grove, who works for the service, was the guest speaker. He talked to those gathered at the meeting at the Barn Restaurant in Prosser about the use of fungicides for combating powdery mildew and Botrytis.
He said the best use of fungicides is alternating the different chemicals, usually a dual purpose compound, and reading the labels to know which chemicals are in a specific formula.
"Keep in mind Botrytis probably had more to do with weather last year...we had a largely wet bloom period," Grove said of one of the primary funguses that affected crops in 2010.
He said dual purpose fungicides like Pristine, Flint, Inspire Super and Adament control both powdery mildew and Botrytis. Those compounds are advised for use on this year's crops.
"Had we had normal weather last fall, we probably wouldn't have had a Botrytis problem," he said, stating the weather is unpredictable and it is important to be prepared for all weather patterns. That is why he suggested growers use dual purpose compounds this year.
Some growers prefer to use a product that is specific to a fungus. Grove said there are products that are recommended specifically to control Botrytis this year. They include Elevate and Scala.
"Some of these compounds have been tested over the years and all look good," said Grove.
He said the most effective compounds, however, work when a grower is aware of the chemicals in them. The awareness of which chemicals are in a specific product will allow a grower to alternate compounds.
Grove cautioned those gathered that strobularins are fungicides to which there is a high risk of resistance. The risk of resistance is why he feels it is advisable to alternate compounds.
"Use fungicides protectively," said Grove, adding good spray coverage and an application rate of three per season, no more than two in sequence, is the best method of alternation.
"Applying anything that ends in 'strobin' back-to-back, for instance, is not advised," he said.
"Know what your active ingredients are," Grove cautioned.