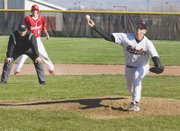 The Sunnyside Grizzly baseball team couldn't connect this past Friday and the result was 18-0 and 24-0 five-innings losses to visiting Eastmont.
In game one, Ricky Palomarez and Sam Romero each collected base hits but it wasn't enough against the Wildcats, who made the most of 12 base hits and six Sunnyside fielding errors.
"There were a lot of ground balls and fly balls that got past us," said Sunnyside Coach Terry Shines.
The Wildcats did most of their damage in the second inning with an eight-run outburst.
For the game, only 11 of Eastmont's runs were earned due to the fielding miscues.
Trey Serl started the game on the mound for Sunnyside, before giving way to Sam Romero in relief. Hank Fairbairn pitched one inning of scoreless relief.
In game two, Eastmont scored nine runs in the third inning on the way to a 24-0 victory. The Wildcats batted around for 23 hits in the nightcap, but also benefitted from five Sunnyside fielding errors.
Those errors provided Eastmont with 12 unearned runs in the nightcap.
To make matters more difficult, the Grizzlies struggled at the plate as 12 of 15 batters went down on strikes.
Eastmont's Ian Sagdal went the distance to record the perfect, no-hit pitching performance. Sagdal's mastery was so complete that 51 of his 70 pitches went for strikes.
Kevin Lee and Julian Rivera shared pitching duties for Sunnyside.
"We're not doing the little things right," Shines said. "They have to understand that what we're coaching works, we have to anticipate every pitch and we aren't mentally tough when the ball comes to us."
Sunnyside (0-10) plays at Hanford this coming Friday.