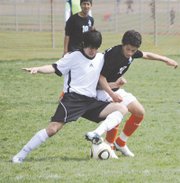 "There are no easy games in our league," said Sunnyside High School Coach Juan Pineda when describing Saturday's loss to the Kennewick Lions.
Sunnyside hosted the Lions this past Saturday in a 3A CBBN match, losing 2-1 for its second straight loss and fourth out of five matches.
"They know the mistakes they're making," Pineda said. "They're playing hard but we have to be focused 100 percent. We need to eliminate the errors. In these tight matches it's the team that makes the fewest mistakes that wins."
The past few games Sunnyside has had problems anticipating moves, Pineda said. The Grizzlies are marking their opponents well on the ground but are anticipating too late when an opponent goes to the air.
"By then it's too late," Pineda said. "If we make contact it will be a PK (penalty kick)."
To help make the team stronger Pineda said he moved his sweeper (Humberto Bermudez) up to the forward position and brought up Josue Pinedo from the JV to play defense.
In Saturday's match the Lions drew first blood in the 20th minute of play when Paul Martinez exploited the Grizzlies' weakness that has been hampering them.
A Kennewick player sent a crossing shot Martinez's way and he anticipated nicely as he jumped in the air and headed the ball past Sunnyside's Eddie Garcia.
"He (Martinez) just connected with the ball faster than our player could mark him," Pineda said.
The Grizzlies wasted no time in getting the equalizer. In the 22nd minute Bermudez ran down the right side of the field with the ball and sent a crossing pass to Alfredo Gomez.
"Alfredo had a beautiful header in the air," Pineda said. "He hit it straight to the keeper but it was so hard it went through his hands."
Both teams played even for the rest of the half.
Around the 54th minute of play the Lions got the go ahead goal when the Grizzlies fouled a Kennewick player close to the 18-yard box. This resulted in an indirect kick opportunity for the Lions.
Marcos Borja received the touch pass from a teammate and kicked a low, hard shot underneath Sunnyside's wall that got past Garcia.
Both teams had six shots on goal in the match. Garcia recorded four saves for Sunnyside. Kennewick's keeper, Jared Gowe, recorded five saves.
Sunnyside (3-4, 4-4-1) will host the Hanford Falcons on Thursday, April 14, at 7 p.m.