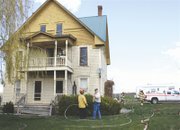 Opal Norman, 87, a long-time Sunnyside resident who moved to the Tri-Cities in 2003, passed peacefully on Friday, April 1, 2011, at the Tri-City Retirement Inn, in Pasco.
Opal was born April 30, 1923 in Oklahoma City, Okla. to William and Dena Ruth Collins, the youngest of five children.
Opal was known for her jolly laugh, positive disposition, and non-judgmental love of others.
She was a notorious cook (taco feeds at Redferns) and a fantastic pie baker.
She enjoyed singing, dancing, crocheting, animals and bowling.
She was very active in the Washington Women's Bowling Association, and once bowled a 300 game. She was proud to be inducted into the Lower Valley Women's Bowling Association's Hall of Fame in 1989.
Opal is survived by her son Bob Stephenson of California; daughters, Ruth (Dan) Rogers and Betty (John) Marin of Kennewick; 10 grandchildren including: Bill (Darlene) Schrank, Sherry Neilson, Marc Rogers, Shellie Murphy and Jerod Marin; 17 great-grandchildren including: Brandon Neilson, Jeremy and Ciarra Schrank; and one great-great- grandchild.
Opal was preceded in death by her parents; three brothers, Garvin, Garret and Bill; one sister, Betty Downs; two daughters, Kitty Caulpetzer and Jo Anne Sanchez; and three grandchildren.
At Opal's request there will be no services, but the family would be pleased by donations to the Benton Franklin Humane Society in her name.
Life Tributes Cremation Center in Kennewick is in charge of arrangements.
More like this story