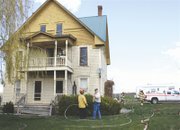 A fire in the 8300 block of Van Belle Road near Sunnyside caused an estimated $10,000 in damage last Friday.
The fire, which is believed to have been caused by a pellet stove, was under control in under a half-hour.
Yakima County Fire District No. 5 responded to the call and arrived to find light smoke coming from an exterior wall. They used a small compressed foam unit to contain the fire.
A hole was opened on the exterior of the home and foam was sprayed up into the residence.
Interior crews were able to contain the fire to the wall. The house suffered minimal damage.
Units cleared and the property was turned back over to the owner.
Sunnyside firefighters also responded to a rubbish fire in the 900 block of Ann Avenue last Thursday. The call came in around 1 p.m. and was quickly extinguished.
However, firefighters returned just before 2:15 p.m. on the same day after the fire re-kindled. It was again extinguished.
The department also received a report of a grass fire at West Lincoln Avenue and Carnation Drive. Firefighters did not need to tend the fire.
Along with the fire calls, the department answered 17 aid calls over the weekend. From those they transported eight people to the hospital.
The department also transferred five people from the hospital to other medical facilities, provided a citizen assist in the 500 block of Dayton Drive and two lift assist requests from the 100 block of Southwest Crescent Avenue.